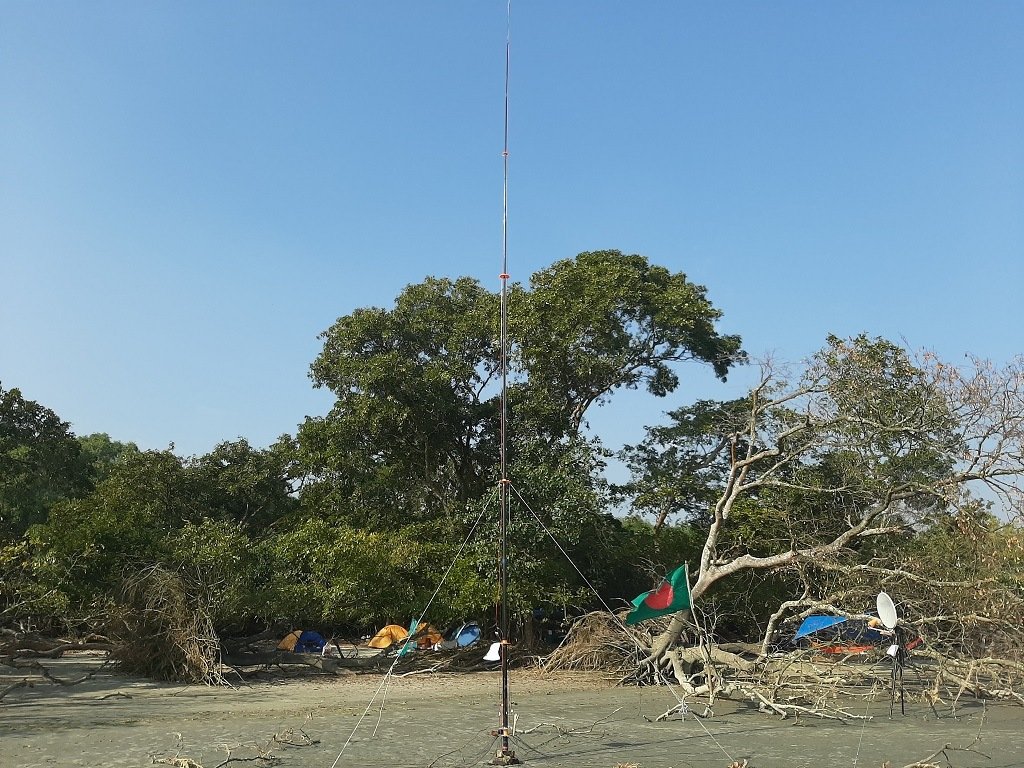 S21DX IOTA AS-140, December 2022
---
Islands on the air
For our last year's IOTA AS-140 activation – We had to reduce the number of stations from our initial planned two to a single HF (as we couldn't manage BPF, struggled to arrange other essentials like batteries, generators etc.). This time we started planning early and hope to manage all the BPF/Telescopic masts and other essential on time.

In 2022 we are planning to activate AS-140 from a different Island [Island's name will be published once we get approval from authority]. Planning Three (3) stations, Few more better antennas (Beam, VDA, Beverage), and our loved multiband vertical with 80m steroid – which was used for the 5000+ qso barefoot. We are planning to use a linear for SSB Phone if we can buy a larger 2000VA 3000VA generator. We will also try to invite more interested S2 operators if we find with adequate experience (interested Bangladeshi HAM Click here and apply before 30th April 2022).

QSL Policy:
Similar to our 2 past IOTA, we will NOT monetize QSL to fund the DX-pedition. Paper QSL will be handled by our good friend David EB7DX who acts as our QSL Manager for last 15+ years. Please check EB7DX website for more detail about QSL service. All QSO log also will be uploaded in LoTW and ClubLog immediately if not during the activation. No need for contribution for LOTW/CLUBLOG confirmation (It's free) – but your support NOW can help us prepare better which will increase your chance of having a QSO with us.
Antenna firm and rigs plan (Last update: 8 Aug 2022):

80m Beverage towards NA/JA
80-10m (30/15m) 7 Band GP Vertical
80m capacitive hat loaded TX vertical.
40m VDA 4 square antenna
20m VDA
12m VDA 17/12m 2 element Beam
20/15/10m 7 element Beam Towards NA/JA
20/15/10m Spiderbeam beam
20/15/10m 3 element Beam Towards EU/AF
3cm Parabolic for QO-100 SAT

Station 1: FT8[Fox/Hound]
Station 2: SSB Voice with Linear*
Station 3: SSB Voice
Station 4: QO-100 UHF SSB

* if we can manage/buy a bigger generator.
Operators:
Fazlay S21RC
Manju S21AM
Aminul S21D
Omi
Shafin
TBA (apply now)

Budget and Support requirement:
[Update Aug 2022] Due to price hike of everything in the country, budget is now set for 7,000 USD.

The initial estimated budget is set for US $5,000.00, Among these the operators and Volunteers (so far they bare their own transportation and food cost) will provide around $2,000.00, rest of the $ 3,000.00 needed for Boat charter, Aluminum and Glass Fiber Antenna mast, Generator and Fuel and we are looking for contribution from HAM around the world.
Support us to activate s21dx
---
With your support we can operate more days and more QSO with better antennas. Click below button to know how you can help us which we appreciate most or make a small donation to fund the expedition through paypal or card.
UPDATES and NEWS
Making a Hybrid coupler for 40m 4 Square antenna is in progress.
Bandpass filter for 80/40/30/20/17/15/10m are ready.
DXWORLD-E is sending us a Linear Amplifier KIT, this second Linear will help us reach further.
4 Telescopic Fiber glass mast shipped by Spiderbeam.
4 Telescopic Fishing poles arrived from China for the VDA support boom. Additional 2 poles in transit.
S21AM is cleaning his 3 element Beam antenna, soon it would be cleaned and refitted for testing.
Antenna planning done. More than 8 antennas in the list. Fishing poles already ordered from China for making VDA booms.
S21RC has applied to authority to buy an IC-7300 rig (yes, buying/importing radio need prior Govt. permission here).
Homebrewed BPF tested for 20m by S21RC, now in the process of making for other bands.
SUPPORTED BY
Gold level support
– S21R Muneem Rana
Silver level support
W5GAI Skip Cameron
5p1kzx/oz1kzx Michael Möller
Robert Urban
KE9L Skip Caswell
W4PID Richard Hattaway
OZ0J Jørgen Preben Rømming
F5OTZ Laurent FIEVRE
Associated with